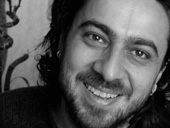 Hi,

My name is Carlos Burgaleta, award- winning, optioned and represented screenwriter specialized in horror/thriller genre. I have completed about ten still unproduced feature-length screenplays, which loglines, pitches and excerpts you can read and download from this promotional website.

Thanks so much for your visit!

* All the material contained in this site is registered with WGA and represented by Little Studio Films and Neo Art Producciones.